Test, test, test. Google AdWords, Instagram, YouTube. This channel, that channel. You name it, I tried it.
But one stands out from the crowd and keeps me returning every time. Step forward Facebook Ads.
Let's back up a minute. You've done the ground work. You've set up your online store. Or maybe you've opened a brick and mortar store. Well done by the way.
But no matter the route, finding new customers can be difficult as well as frustrating. We have all been there!
From my experience, there's no faster way to get your products or services in front of your target audience than Facebook ads.
It makes sense if you think about it.
Facebook has over 2 billion users and it knows who they are, how old they are, where they live and what their interests are. Facebook lets you use that information to target people. Let's say you sell men's clothes aimed at young adults. Using Facebook adverts, you can target an audience so that only males, aged 16-24 and interested in 'Fashion' see your ads.
Pretty cool right.
In this article, I will explain why Facebook advertising is a must if your business plans to adapt a social strategy. Also, I will outline a simple step by step guide to help you implement your first Facebook Ad.
Why Facebook Ads? Facebook Advertising Benefits

 
Unfortunately, the days of organic Facebook marketing are over. In order to be successful in today's world, you will need to use Facebook advertising. Even if its building a community of followers, you will likely have to use Facebook advertising to grow your community. If you are posting content, you will likely use promoted posts to reach more people.
Facebook ads arm you with the following. Engaging ad formats. An unrivaled suite of targeting options. And enough campaign types to help you achieve virtually any marketing objective.
They all add up to one thing: massive advertising opportunities for businesses of any size.
Whether you sell shoelaces or legal services, there are people using this platform who might someday become your customers.
So let's dig deeper into the benefits of using Facebook Ads.
1: Your customers spend most of their time on Facebook
Let's start with the facts. 80% of all Internet users use Facebook. That's over 2.07 billion users. Even 65% of adults over the age of 65 use Facebook. Staggering!
Digging further, most Facebook users check their page multiple times per day (on average 8 times). In fact Facebook's users spend approximately an hour each day bouncing between Facebook, Messenger and Instagram.
So regardless who your customers are, they are using Facebook and they are using it daily.
2: Facebook advertising is the most targeted form of advertising
Facebook puts heavy duty technology to work to help you reach and connect with the most valuable people for your business. Most marketers start by targeting Friends of your existing users, visitors of your website, or people in your CRM lists. These options can be very powerful but what may be most effective is Facebook's audience expansion tool Lookalike Audiences.
Lookalike Audiences uses machine learning to help find you valuable potential customers who are similar to those who visit your site or are already in your CRM. So you can upload a list of your most valued customers from your CRM and have Facebook hunt down similar users based on their rich data.
3: Facebook Advertising is the cheapest form of advertising
Another huge advantage of Facebook advertising is that it is one of the cheapest forms of advertising. You can literally spend 5 Euro and reach 1,000 people. Why waste money on traditional media such as radio, billboards to reach the same audience?
4: Facebook advertising can fuel your email marketing efforts
Finally, you can avail of Facebook's "lead ad" forms to capture email contacts through Facebook ads. You can also direct traffic to an external form on your website to build your email list.
For a more comprehensive list of advantages, click here.
How to place your first ad
Based on the assumption you already have a Facebook business page, head straight on over to the Facebook Ads Manager.
Step 1: Choose your campaign objective
Choose your campaign objective based on the following. One, the most important metrics for your business. And secondly, your goals for this particular ad.
Step 2: Target your audience
Effective targeting is key with Facebook ads.  You can target your audience by location, gender, income, etc.  But not only those. In fact, you can further refine your audience based on any of the following:
a) Connections: You can choose to target people who are either connected or not connected to your Facebook Page. If you want to reach a new audience, under Detailed Targeting, choose select "Exclude people who like your Page." If you want to promote an offer or new product, select "People who like your Facebook Page" to reach people who already know your brand.
b) Custom Audiences: You can create your own audience of people who have previously interacted with your business. Facebook offers a step-by-step guide on how to do this.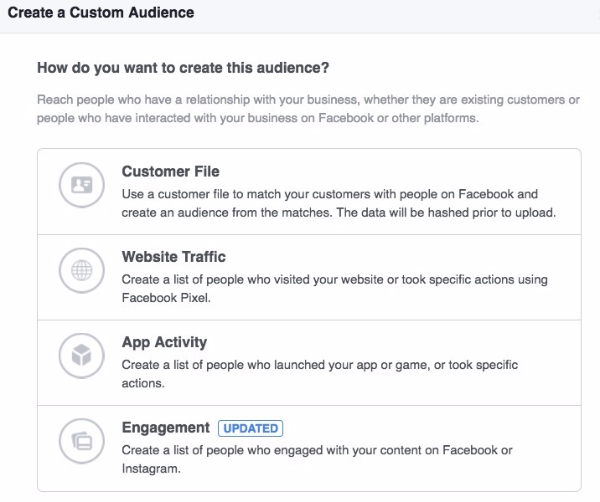 c) Lookalike Audiences: This lets you target people who are similar to your existing, most valuable audiences. Here's how to do this.
When doing these, keep an eye on the meter on the right side of the page. This indicates the breadth of your audience selection, and the estimated daily reach chart.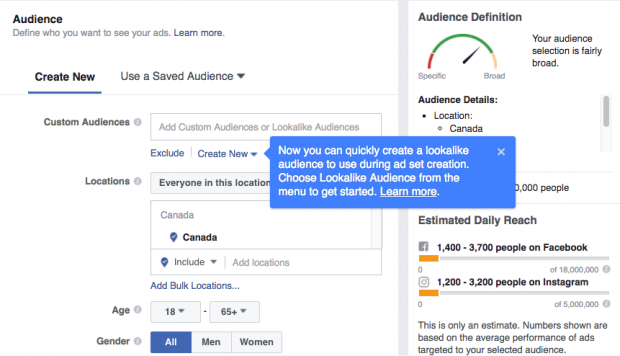 Step 3: Set your budget and schedule
Next, you decide how much money you want to spend on your Facebook ad. You can choose a daily or lifetime budget.
Then, simply choose your ad's start and end date. It's that easy!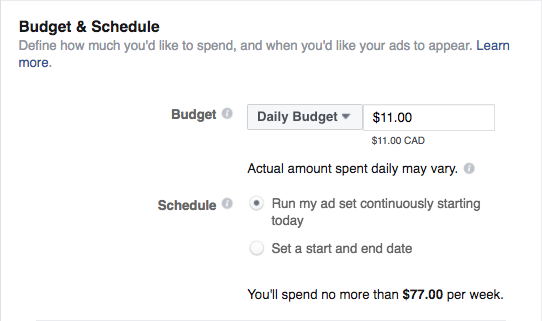 Once you begin to feel more confident. Under the advanced budget options, you can play around with options such as ad scheduling.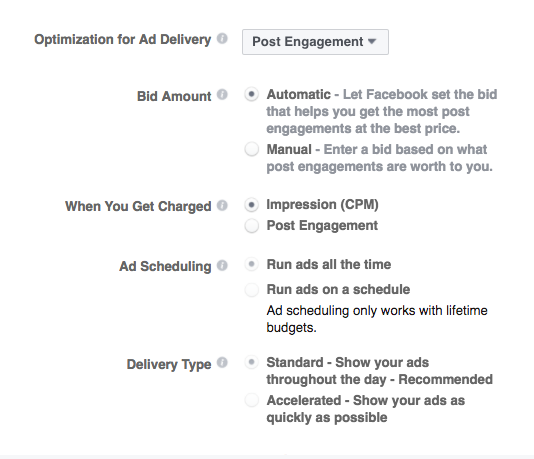 Step 4: Create your Facebook ads
Here you are presented with a few options.
One choice could be to promote an existing post. But, if you would prefer instead to create a new ad, first choose the ad format, then complete the text and media components for your ad.
If stuck for ideas, head over to AdEspresso for some inspiration.

Finally, you can use the preview tool. This is located at the bottom of the page. This allows you to check your ad for all potential placements (mobile, desktop news feed, right column).
Once you're happy with your ad, click the green Confirm button to submit your order. Facebook will notify you through email that your ad has been approved.
There you go, you have completed your first Facebook Ad. Congratulations!
Keep in mind, we've only barely scratched the surface when it comes to Facebook Ads. Please keep an eye out for our upcoming blog, here we will discuss some of the platform's more advanced techniques.
Conclusion
Thanks for reading! I hope you found this to be a useful guide for getting set up with Facebook Ads.
Luckily, Facebook makes it relatively simple to a) identify your ideal audiences and b) incite conversions through aesthetically pleasing ads.
If you found any of this a little daunting. Or maybe your time is limited. Please contact us and one of our team will gladly assist you.
Finally, I'd love to continue the conversation with you in the comments below. What has been the best success you've found with Facebook Ads? What are your top tips for creating brilliant ads?